(Uper Floor)
The IRIS is two-storey suite and develops on two levels.The first level has seating areas which can accommodate two people on a comfortable corner sofa bed of 2.80 x 2.00 m  has a fridge and coffee and tea making facilities, as well as  espreesso and caputccino machine, provided free of charge . It has a bathroom with a large modern shower, with ydromassage column..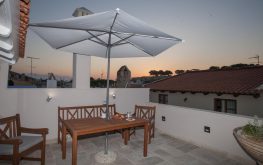 The living room has a large wooden architectural protrusion  "the sachnisis" or "the "solar" with perimeter windows set allows views to the depth of the characteristic  road  of the old city on ArabbaJoggle Str. , with wooden kiosks, shops and the Venetian Episcopal  Building.
The total area of the first level is 23.00 m².